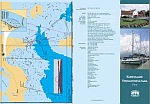 Lat = 58°14,62' Long = 22°28,25'
A pearl among the small towns of Livonia
Winds: generally south-western winds with an average speed of 6-8 m/s
Kuressaare is a spa resort with versatile and good services in safe surroundings and with a modern infrastructure and balanced economy. Kuressaare is a highly appreciated tourist resort among the Estonian and foreign visitors. The centre has kept her image since the times the town was called "the pearl among the small towns of Livonia". Every year thousands of tourists visit this tourist resort which is one of the most popular in Estonia.
The most important historic sight is The Bishops castle from the 14th century surrounded by the town park with several plant species.
The old town is highly valued because of the architecture, one- or two-storey houses in classic style has been saved in the centre of Kuressaare. Kuressaare is a quickly developing, safe town with good possibilities for enterprises and to active free time. Kuressaare is a town where you want to return to and where everybody is welcome.
First written references to Kuressaare, the capital of Saaremaa in 1424
Chartered the 8th of May 1563
Autonomy: the 1st of October 1990
Area: 15 km
Climate: mild, maritime
Average temperature: summer 19°C, winter -1°C
Average temperature of water: in June 17°, in July 18, 5°, in August 19°
This e-mail address is being protected from spam bots, you need JavaScript enabled to view it
Last Updated ( Tuesday, 11 December 2007 )